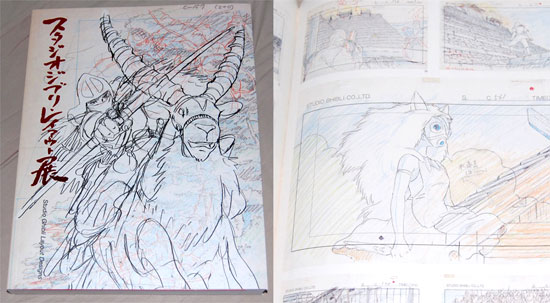 ANIME ARTBOOKS HAVE TRAVELLED FAR AND LONG TO THE METROPOLITAN MUSEUM OF MODERN ART, TOKYO IN ORDER TO PURCHASE THIS VERY SPECIAL BOOK. THIS BOOK IS ONLY AVAILABLE AT THE EXHIBITION VENUE. *
Condition : Brand New
Details :  Softcover, 27 x 17 cm, approximately 400 pages, full colour, Japanese text.
BONUS item : A promotional flyer for the layout exhibition, which includes a special illustration by Miyazaki Goro, son of Miyazaki Hayao.
Description :
This is a special book published for Studio Ghibli's Layout Designs Exhibition that was held at the Tokyo Metropolitan Museum of Modern Art from the 26 July to the 28 September 2008. This book contains all the 1300 pieces of anime layout designs that was on display at the exhibition and is the most comprehensive collection of Ghibli's anime layout designs ever published, containing many  artwork from Ghibli's most famous films like my Neighbour Totoro, Princess Mononoke, Kiki's Delivery Service, Howl's Moving Castle, Spirited Away and more. This book is only available for Sale for visitors who attend the exhibition.
For a more detailed writeup on the exhibition, read this post.